PS-500 Double-Acting Spot Gun Back to top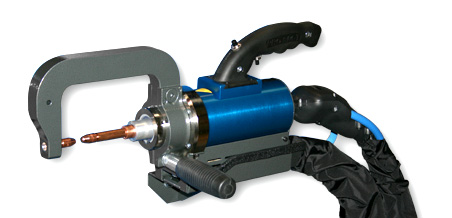 Push one button to open electrodes wide, then push the other button to close electrodes and weld. Pro Spot's PS-500 Spot Gun System features electrode pressure over 600 Lb. with all extension arm sizes.
Changing the arms on our weld guns is quick and easy.

| | | | | | |
| --- | --- | --- | --- | --- | --- |
| PS-503 (optional) | PS-305 | PS-306 (optional) | PS-403 (optional) | PS-302 | PS-52-5/8 |
| 600mm U-Arm | 508mm U-Arm | C-Arm Deep (280mm) | X-Adapter | C-Arm | Wheelhouse Arm |

The comes standard with several different types of weld arm extensions (508mm U-Arm, C-Arm, Wheelhouse Arm) and others are available upon request, so that you can tackle any welding problem with as much ease and accuracy as possible.
Learn more ›
The is capable of handling a variety of single-sided welding needs, including:
washer, nut & bolt, nail, rivet and stitch.
Learn more ›
The PR-2000 features a clean ergonomic interface layout with the power switch and electrode pressure knobs all set in a convenient and straight forward manner and a large 4x6" monitor capable of displaying data and weld parameters.
Electrode Pressure Gauge
Electrode Pressure Control Knob
3 Phase Power Indication Lights
Power Switch
Display Screen
The package can include a MIG welder as an option. It can also be installed later as an upgrade. This feature allows the convenience of STRSW and MIG welding in one unit.
MIG Features
220V 1-phase ready to use
Binzel connector: quick-connect all-in-one adapter
Ideal for collision repair welding
The has an overhead installation option. With the overhead option, the welder hangs from a track system that can cover up to 14 bays.
Overhead Features
All the features of a portable welder. ( Optional MIG welder included. )
Convenient overhead mounting system.
No cables, air hoses or equipment on the floor.
Always connected, ready to weld.
Stores out of the way when not in use.
Moves easily around the shop.
Saves valuable shop floor space.
Technical Specifications
Input Voltage:

1 or 3 phase
208 - 240v 50/60 hz
400 - 420v 50/60 hz

Welding Amperage:

11500A max (3-phase)
6300A max (1-phase)

Cable Length:
8' (2.5m) standard
Electrode Pressure:
7 bars (90 PSI)-280 DaN (616 Lb)
Cooling System:

Air (2 fans), Compressed air
(weld gun and weld cables)
(inverter, transformer, welding gun)

Microprocessor:
Compact Flashcard Software Platform
Protection:
IP 21
Patents (3):

no. 5,239,155
no. 6,706,990
no. 6,539,770

Shipping Weight:
373lb (169kg)
Features
Inverter Technology, 2000Hz.
Current Sensing Technology
Designed For New Advanced Steels: AHSS, HSS, T.R.I.P, BORON
Multiple Languages, Change On-The-Fly
4 Cable System
3-Phase Input
Double-Acting Spot Gun
Two Sided Spot Welding
Single Sided Welding
X-Gun Adaptive
Upgradable To Overhead Installation
Built-In MIG Welder Available (optional)