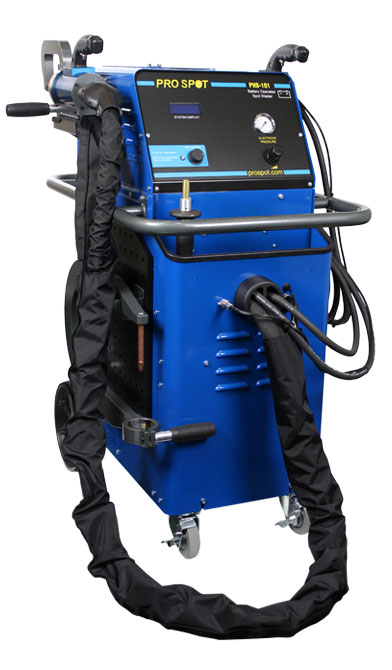 PHS-101 | Battery Operated Welder

No 3-Phase required! Battery operated DC spot welding system with current monitoring. The Hybrid Spot now features weld current monitoring to show the operator how much current is delivered to each weld. The unit can also alert the user when the weld current falls below a preset level. The Hybrid Spot Resistance Spot Welder provides a great alternative spot welder where 3 phase power is not available or overloaded. The battery operated welder delivers high amperage DC weld current designed to produce powerful spot welds. No input power is required to operate the welder. The built-in charging system is capable of charging all batteries at the same time.
Locate a Distributor ›
Hybrid Series - Battery Operated WelderBack to top
Convenient 110V/220V auto-sensing outlet on the back of the machine for easy re-charging!
Can also be charged while welding. Load test of battery system included.
PS-500 Double-Acting Spot Gun Back to top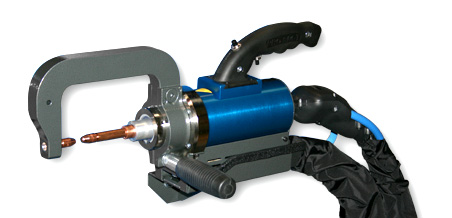 Push one button to open electrodes wide, then push the other button to close electrodes and weld. Pro Spot's PS-500 Spot Gun System features electrode pressure over 600 Lb. with all extension arm sizes.
Changing the arms on our weld guns is quick and easy.

| | | | | | |
| --- | --- | --- | --- | --- | --- |
| PS-503 (optional) | PS-305 | PS-306 (optional) | PS-403 (optional) | PS-302 | PS-52-5/8 |
| 600mm U-Arm | 508mm U-Arm | C-Arm Deep (280mm) | X-Adapter | C-Arm | Wheelhouse Arm |

The Hybrid comes standard with several different types of weld arm extensions (508mm U-Arm, C-Arm, Wheelhouse Arm) and others are available upon request, so that you can tackle any welding problem with as much ease and accuracy as possible.
Learn more ›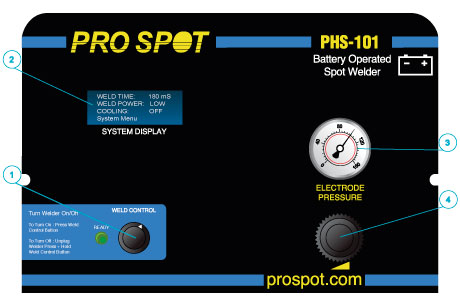 The PHS-101 features a simple and clean front panel layout, utilizing a weld control button and LCD screen to reduce power consumption maximizing the number of welds the PHS-101 is capable of handling.
Weld Control Button
System Display
Air Pressure Gauge
Air Pressure Regulator
The Hybrid is capable of handling a variety of single-sided welding needs, including:
washer, nut & bolt, nail, rivet and stitch.
Learn more ›
Technical Specifications
Input Voltage:

110VAC
220VAC 1 Phase 15A

Welding Amperage:
10,500A max
Cable Length:
8' (2.5m) standard
Electrode Pressure:

At 7 bar (90 PSI)-280 DaN (616 Lb)
At 8 bar (116 PSI)-320 DaN (720 Lb)

Cooling System:

Air (2 fan) Compressed air
(weld gun and weld cables)

Dimensions

33" x 23" x 50"
838mm x 584mm x 1092mm

Shipping Weight:
275 lb (125kg)
Features
4 Cable System
Double-Acting Spot Gun
Two Sided Spot Welding
Single-Sided Welding
Current Monitoring
Battery Operated
600lb Squeeze Pressure
X-Gun Adapter (optional)