About Pro Spot International Inc.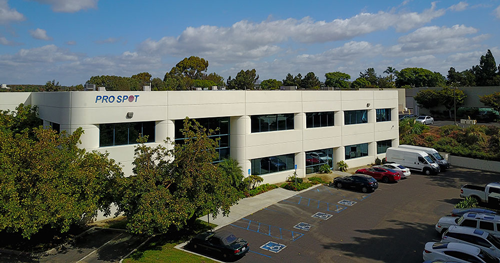 Established in 1986
---
Pro Spot International specializes in quality welding and repair products for the collision repair industry. As industry leaders, Pro Spot owns three patents for special welding equipment and applications, and works with the largest auto manufacturers in the world.
Pro Spot is a proud 'MADE IN THE USA' manufacturer in Carlsbad, CA. The turnkey facility includes Design, Engineering, Machine and Sheet Metal Shops, Powder Coating, Assembly, Training and Customer Support.
The Pro Spot equipment line includes resistance spot welders, aluminum & steel dent repair systems, pulse MIG welders, rivet guns and tools, dust-free sanding systems, fume extraction, plastic repair and more.
Training & Services
Customer Service is Essential

Pro Spot provides on-going training to all of our distributors and their technicians, therefore, all owners of Pro Spot products receive complete training first hand. Pro Spot has two ASE certified training programs that are I-CAR alliance approved. Pro Spot has a fully equipped training facility at their Headquarters in Carlsbad, CA for groups to come in and train on all products. To stay up-to-date, Pro Spot offers their unique My.prospot.com which includes interactive training courses for shops and technicians to access online.

Pro Spot is constantly striving to improve. Whether that means designing innovative equipment, implementing cutting edge technical support or further improving their already extensive training programs, Pro Spot is always looking for ways to better our customer's experiences.

Our Commitment to Training

Pro Spot International Inc. Training Division is committed to offering squeeze type resistance spot welding (STRSW) and metal inert gas (MIG) welding training and information to all in the collision repair industry so that collision repair technicians, managers and shop owners can attain the knowledge to safely perform STRSW and MIG welding repairs to the highest standards. We continuously work to improve our training according to changes and trends in the industry. In this way, Pro Spot International Inc. Training Division maintains a constant level of excellence in education and training.
Contact Information
Pro Spot International, Inc. U.S.A.

5932 Sea Otter Place

Carlsbad

,

CA

92010
European Regional Office
Pro Spot Deutschland GmbH


Ziegelweg 2
D-78166 Donaueschingen, Germany
Pro Spot Europe on

Managing Director