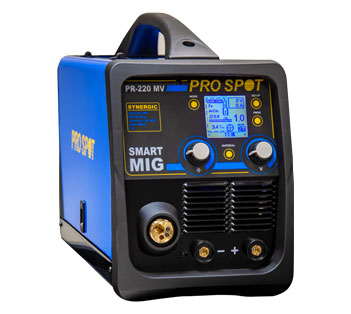 PR-220MV
The PR-220MV is a microprocessor-controlled, multi-process inverter Welder. All functions can be easily selected on the front panel. The digital LCD display shows the welding voltage and current and all the parameters selected. The PR-220MV is ideal for auto body shops, sheet metal fabrication, light maintenance and repair at home, on the ranch, or in the shop.
Locate a Distributor ›
Features
Multi-Voltage

The PR-220MV comes with a Multi-Voltage Adapter that lets the user switch from 220V to 100V with a simple plug-in.

Easy Synergic Settings

Simply select the desired combination between wire diameter, gas type and thickness to be welded; and the wire speed will be adjusted automatically by the machine.

Added Mobility

The PR-220MV has an optional cart, featuring a bottle bracket, accessory drawer and swivel casters adding mobility and convenience.
The PR-220MV features an easy to use, automatic set up. A quick spin of the dial and the machine will automatically set all the parameters that you need. Take full control by using the dials to manually select settings as well.
1. Mode Button: Welding process selector key - MIG/MAG, TIG or Stick
2. Welder Screen: Digital screen to select welder settings
3. Setup Button: Select weld modes such as Synergic or Manual
4. Save and Recall Button: Save welding programs and recall them
5. Wire Speed Knob: Sets the wire speed
6. Material Button: Select which type of material you are welding, select the type of gas and the wire diameter
7. Voltage Knob: Sets in the voltage or material thickness
Compatible Welding Wires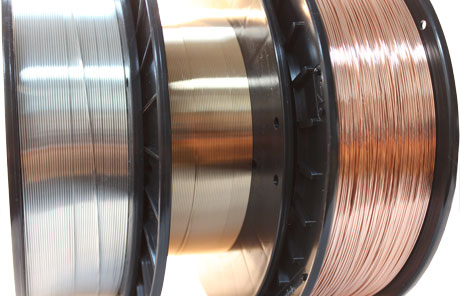 The PR-220MV is 1 Spool and 1 Torch MIG Welder with the option to switch between multiple metal types including aluminum, steel and silicon bronze. Wire types that can be used with the PR-220MV:
Aluminum 0.8 - 1.0 dia.
Steel 0.6 - 1.0 dia.
Flux core 0.8 - 1.0 dia.
Stainless Steel 0.8 - 1.0 dia.
Brazing 0.8 - 1.0 dia.
Technical Specifications
Input Power

Single Phase
230 or 115V AC
50/60 hz

Output Rating
MIG
200 amp dc @ 35 % duty cycle
120 amps dc @ 100% duty cycle
TIG
200 amp dc @ 35 % duty cycle
120 amps dc @ 100% duty cycle
MMA (STICK)
200 amp dc @ 35 % duty cycle
120 amps dc @ 100% duty cycle
Output Range

MIG: 20 amps - 200 amps
TIG: 5 amps - 200 amps
MMA: 5 amps - 200 amps

Dimensions
20" x 11" x 17" (LxWxH)
Weight
50 lbs.
Features
Multiple Welding Processes
Inverter Technology
Automatic Line Voltage Compensation
Multi Voltage - 115volt/220 Volt Input
Power Generator Friendly