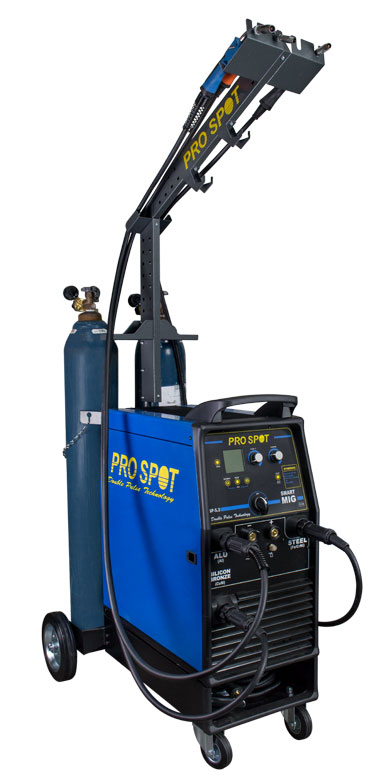 SP-5.3 | 3 Phase SMART Double Pulse MIG Welder
The new Pro Spot SP-5.3 SMART Double Pulse MIG welder, is a 3 phase welder with microprocessor controls provide excellent welding performance on any materials and any thickness, regardless of weld time.
Locate a Distributor ›
3 Phase MIG Welder

Industrial strength and ready for heavy welding applications in the shop.

Auto Switching

To switch welding different base metals, simply pick up the appropriate torch and pull the trigger, the microprocessor and weld programs do the rest.

Double Pulse

Safely and confidently repair aluminum and steel with automatically controlled pulse welding.

MIG Welding

Features three MIG welding torches and wire spools. Also includes preloaded weld programs and synergic curves for all common welding situations in automotive repair.

Multiple Welding Processes

Accessing multiple applications is as simple as pressing a button and making your selection.
Simply pick up the appropriate torch for the base metal you want to weld and pull the trigger — the SP-5.3 will automatically switch the weld program and synergic curve — no need to change wire spools or shielding gas.
Preprogrammed synergic curves maintain optimal arc stability and weld quality.


With three wire spools dedicated to three separate torches, the SP-5.3 is capable of easily switching between Steel, Aluminum and Silicon Bronze welding materials. This gives the operator seamless transitions from material to material and increased work flow which leads to a faster cycle time.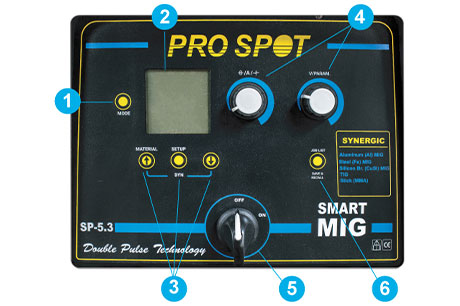 The SP-5.3 features a LCD screen and an easy to operate front panel that makes user experience straightforward with fast turn knobs and yellow buttons indicating functions on the machine.
1. Process Selection:
&nbsp&nbsp&nbsp&nbsp&nbsp&nbsp&nbsp&nbsp- MIG/MAG Double Pulsed
&nbsp&nbsp&nbsp&nbsp&nbsp&nbsp&nbsp&nbsp- MIG/MAG Pulsed
&nbsp&nbsp&nbsp&nbsp&nbsp&nbsp&nbsp&nbsp- Root Welding
&nbsp&nbsp&nbsp&nbsp&nbsp&nbsp&nbsp&nbsp- MIG/MAG Synergic
&nbsp&nbsp&nbsp&nbsp&nbsp&nbsp&nbsp&nbsp- MIG/MAG Manual
&nbsp&nbsp&nbsp&nbsp&nbsp&nbsp&nbsp&nbsp- TIG DC Lift
&nbsp&nbsp&nbsp&nbsp&nbsp&nbsp&nbsp&nbsp- MMA
2. Large LCD Display
3. Navigation Key (Menu Setting)
4. Regulation Knobs
5. Power Knob
6. Save & Recall Parameters
SP-5 Smart MIG

Single phase 208-240V 50-60Hz
5 torches — 3 MIG, 1 TIG, 1 stick
3 wire spools
2 gas cylinders
Technical Specifications
Input Voltage:

Three Phase
220-400V 30A 50-60Hz

Amps / Volts, Min - Max:

MIG - 20A/15V - 350A/31.5V
MMA - 5A/20.2V - 270A/30.8V
TIG - 5A/10.2V - 350A/24V

Protection:
IP 22
Insulation:
H
System Weight:
137 lb. (62kg)
Features
3ph. Machine

Multiprocess CC/CV

MIG/MAG Double Pulse Function

Root Welding Function

Multiple Welding Processes

Auto Switching
USB Port For Upgrades, Parameter Saves and Diagnostics

LCD Display Provides Full Information To The Operator

12A Minimum Welding Current
User Defined Memories

Multi-Torch System