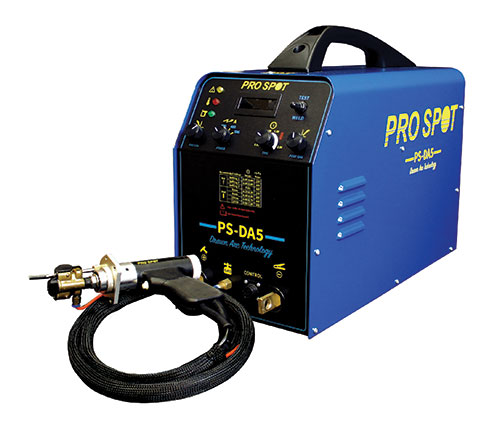 PS-DA5 | Drawn Arc Technology
The Pro Spot PS-DA5 Drawn Arc Welder is the latest technology in precise dent pulling for aluminum repair. Using drawn arc technology, the PS-DA5 easily applies pulling keys and threaded studs​ so that various tools can be used​ to pull dents from aluminum panels that would otherwise need replacing.
Locate a Distributor ›
Precise Aluminum Dent Repair

Designed for the growing needs in aluminum dent repair, the PS-DA5 provides accurate placement for pulling keys and threaded studs.
Aluminum Repair Using Drawn Arc TechnologyBack to top
Learn how to repair aluminum using Drawn Arc Technology with the PS-DA5
Mobile Weld Station - PS-DA5Back to top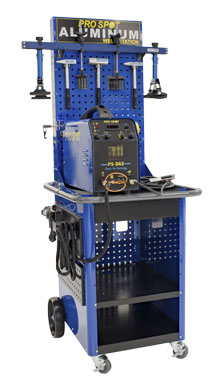 Equip an Aluminum Weld Station with the PS-DA5 to take advantage of the mobility and storage that the portable welding cart offers. Stay organized and on top of aluminum welding by having a space in the shop dedicated to serving your aluminum dent repair needs.
Features:

• PS-DA5 Drawn Arc Welder
• Stud Torch Adapter
• Key Torch Adapter
• Mobile Cart with Tool Board
• 110V & 220V Utility Panel
• High Quality Work Surface
• Storage Drawer
• Gas Bottle Bracket
• Accessory Kit
Technical Specifications
| | |
| --- | --- |
| Input Voltage: | 3ph. 208-240V 50/60Hz @ 40A |
| Welding Amperage: | 250/300/400/500 A |
| Protection Degree: | IP 21 |
| Dimensions | 28x18x18 |
| Weight: | 95lbs. (43kg) |
Features
Uses Drawn Arc Technology
Easily Applies Pulling Keys and Threaded Studs
Pro Pull Dent Pulling