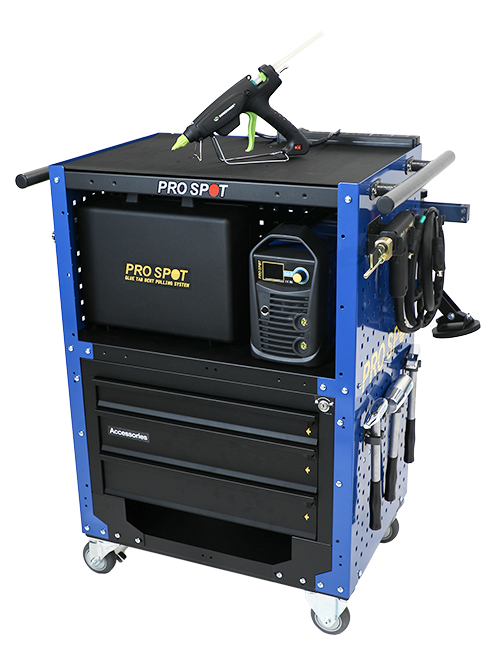 MWS-GTK-AL | Aluminum and Glue Dent Repair Station
Introducing the MWS-GTK-AL station, the professional solution for your dent repair needs. With the DA-3 Drawn Arc Welder, the PRO-GTK Glue tab kit and a variety of pulling tools on one mobile station, you can repair any dent anywhere in the shop. The MWS-GTK-AL station also offers a wide range of dent pulling accessories and tools. These added tools give technicians the ability to pull any dent on any material.

The station provides plenty of storage space with lockable drawers and toll hooks and customization opportunities.space to ensure that steel and aluminum tools are stored separately and safely.
Locate a Distributor ›
Drawers for convenient tools storage

The MWS-GTK-AL is ergonomically designed to help you support tools, accessories, and equipment. One easily accessible location for all of your dent pulling accessories.

DA-3 for effective Aluminum Repair

Synergic Drawn Arc welder that works with Aluminum and Steel

PRO-GTK Glue Tab Dent Repair Kit

This kit works on Aluminum and Steel, directly on painted materials. No need to grind.
DA-3 for effective Aluminum Repair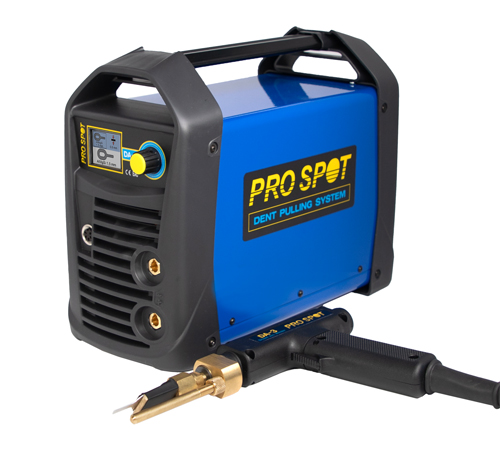 The Pro Spot DA-3 Synergic Drawn Arc welder easily applies pulling keys and threaded studs so that various tools can be used to pull dents from steel and aluminum panels. With specific programs for both steel and aluminum, the DA-3 features:
• Different functions for a variety of repair procedures
• Color graphics screen for easy and intuitive set up
• Customizable and storable weld programs
• SD card memory to update and add programs
• Extremely lightweight
The DA-3 has a wide range of configurations to best fit your shop's needs. It can be added to a weld cart or even a Mobile Weld or Dent Pulling station for additional functionality, mobility and storage.
LEARN MORE
|
DA-3 BROCHURE
|
DA-3 COMPONENT LIST
Aluminum Repair Using Drawn Arc Technology

GLUE TAB DENT REPAIR KIT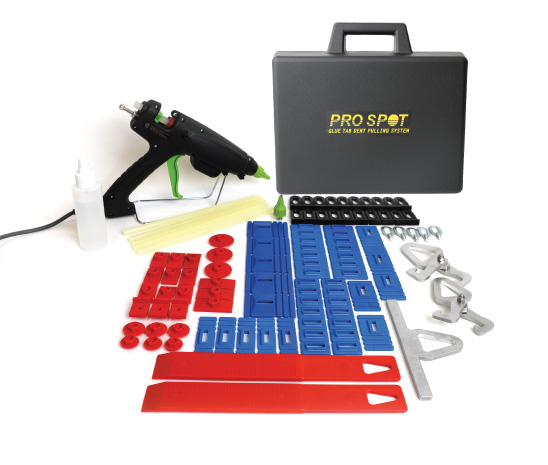 Fix major dents with no heat input. This is crucial when repairing new advanced, heat sensitive materials such as HS steel and aluminum. They demand new processes to repair these materials with little or no heat input and the Pro Spot Glue Tab Dent Repair Kit is the answer. It will help with your dent repair process by cutting repair time by avoiding welding or arc procedures.
Features:
•Repair Without Damaging The Undercoat:Designed for the growing needs to repair new, advanced metals without damaging the undercoat.
•Quickly Pull Dents: The Glue Kit allows users to quickly pull dents without having to grind the repair area.
LEARN MORE
|
PRO-GTK BROCHURE
|
PRO-GTK Component List
Glue Tabs are Applied In Four Easy Steps!
Step 1: Plug in the glue gun. This way it will be hot and ready when the area and tabs are prepared.

Step 2: Clean the are you are planning to repair with 91% alcohol.

Step 3: Heat the area you are repairing to remove excess moisture, no more than 100 degrees and the tab you are using to pull.

Step 4: Put glue on the tab you are going to pull and then apply it to the area you are repairing.
MWS-GTK-AL Equipment and Accessories
Mobile Work Station G2
110V Power Strip, 6-Outlet, 2-USB
DA-3 220V: Drawn Arc Dent Puller
PRO-GTK: Glue Tab Kit (110V)
85-0200: Heat Gun (110V)
85-3088: Air Grinder
85-0421: Infrared Laser Thermometer
SA-0032: AL Hammers, 3 Piece Set
85-1277 7pc Steel Hammer & Dollie Set
PRO-66: Pro Pull, Dent Puller
PB-20: Pivot Puller
PB-10: Pull Bar 4-footed
PRO-65: Pull Gun Assembly
PRO-GT3D: 3D Glue Tabs
PRO-GTFT: Universal Flat Glue Tabs (18PC kit)
Multiple mounting Accessories
SEE COMPLETE COMPONENT LIST
WORK STATION TECHNICAL SPECIFICATIONS
| | |
| --- | --- |
| Work Station Dimensions: | 32.8" W x 18.2" D x 39.8" H |
| Part Number: | MWS-GTK-AL |
| Weight: (With all equipment) | |