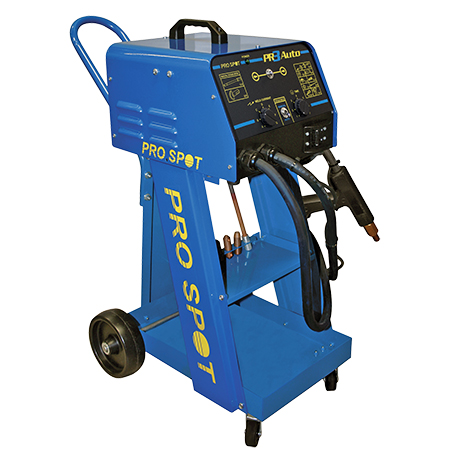 PR-3 | Resistance Welder
Our versatile resistance type welder delivers exceptional performance and flexibility for a wide range of light welding and dent pulling applications. Originally designed for the body shop industry, this welder is capable of shrinking, single-sided spot welding, and attachment of threaded studs, nuts, and mounting clip rivets for windshields. Additionally, it is ideal for patchwork welding tasks. The biggest advantage of this welder is that it utilizes minimal heat compared to other welding methods, while still providing a clean and user-friendly experience. After welding, there is minimal cleanup required, making it an efficient and reliable tool for any workshop.
Locate a Distributor ›
Auto Weld Feature
The Auto feature is very quick and user friendly due to the fact that it does not weld instantly like other higher priced systems on the market. Electrodes that can be used with the Auto-Mode include:
Pull Key Electrode (PS-880)

4mm Stud Holder Electrode (PS-820)

6mm Stud Holder Electrode (PS-839)

Washer Adapter (PS-840)

Rivet Holder (PS-870)

Spot Hammer Assembly (CLP-70)

Weld-on Shaft Dent Pulling Kit (CLP-110)

Weld-on Shafts (SA-0153, SA-0152, SA-0151)
The PR-3 Auto is capable of handling a variety of single-sided welding needs which include:
washer, nut & bolt, nail, rivet and stitch.
Learn more ›
Dent Repair / Stitch Welding
1. Lever Bar 2. Slide Hammer 3. Weld-on Shaft Dent Pulling Kit

Quickest dent pulling system ever! Just weld the hammer directly on the dent and hammer away. Simply twist to release.

Ideal for rust repair and patching, stitch welding works by delivering an intermittent or pulsating current while rolling the tip on the sheet metal edge.

Pro Pull Dent Pulling. Position the weld tip on the bottom of the dent, weld, then squeeze the handle to initialize the pulling action.
Precision Dent Pulling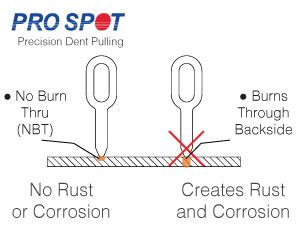 Auto Welding

Pull Bar Dent Pulling
By using weld keys, the user is able to pull a larger area all at once. They are also usefull for pulling out creases. When the keys are welded in a crease and the metal rod is inserted through the group of keys, the low portion of the crease will be pulled first and the entire crease pulled evenly flat. Used with the Pro Pull Single Pull or Pull Bar.
Technical Specifications
| | |
| --- | --- |
| Input Voltage: | 1 Phase 208-230V |
| Input Amperage: | 24A |
| Input Cable: | 30' (9m) |
| Autput Amperage: | 2000A Max (at) tips |
| Welding Cable: | 8' (2.5m) |
| Dimensions: | 18" X 14" X 12" |
Features
Auto Weld

Auto senses & welds when it makes contact with the workpiece, saving time and hassle.

T-Dent Handle

Provides additional access tand mobility to apply pull keys tightly together.

Versatility For Any Job

With the turn of a wing nut, you can easily switch to single-sided welding applications including washer nut & bolt, nail, rivet, stitch & more.