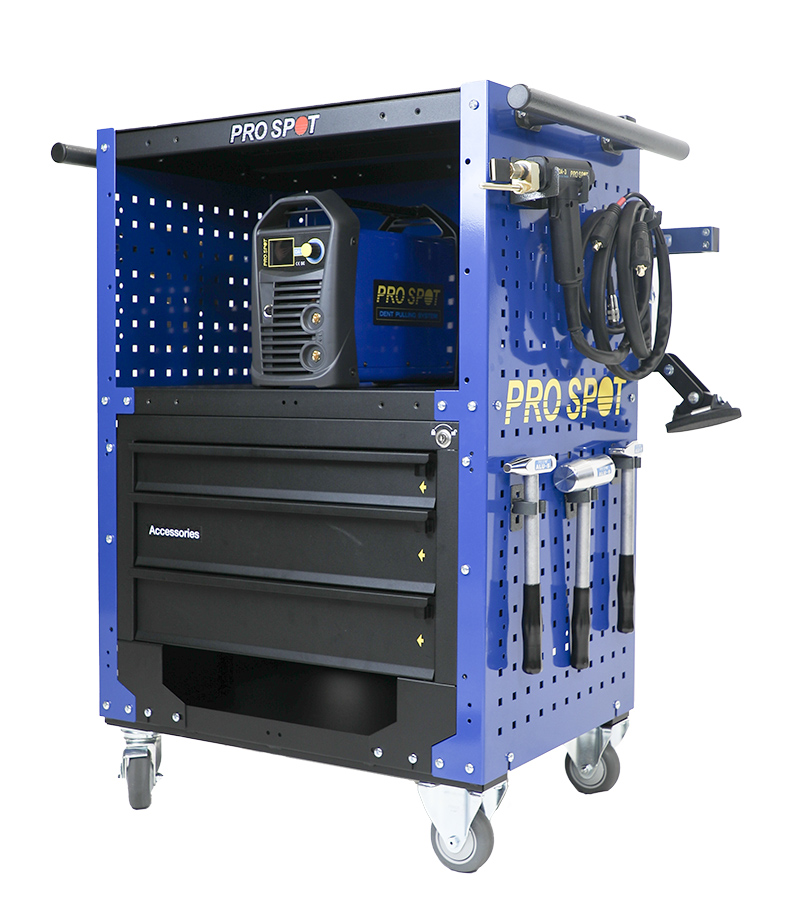 MWS-AL-COMPLETE | Aluminum Dent Repair Station
Introducing the updated MWS-AL-COMPLETE station, the professional solution for your dent repair needs. With new and efficient DA-3 Drawn Arc Welder and a variety of pulling tools on one mobile station, you can repair any dent anywhere in the shop. The MWS-AL-COMPLETE station also offers a wide range of dent pulling accessories and tools. These added tools give technicians the ability to pull any dent on various materials. The station provides plenty of storage space with lockable drawers and toll hooks and customization opportunities.
Locate a Distributor ›
Drawers for convenient tools storage

The MWS-AL-Complete is ergonomically designed to help you support tools, accessories, and equipment. One easily accessible location for all of your dent pulling accessories.

DA-3 for effective Aluminum Repair

Synergic Drawn Arc welder that works with Aluminum and Steel
DA-3 for effective Aluminum Repair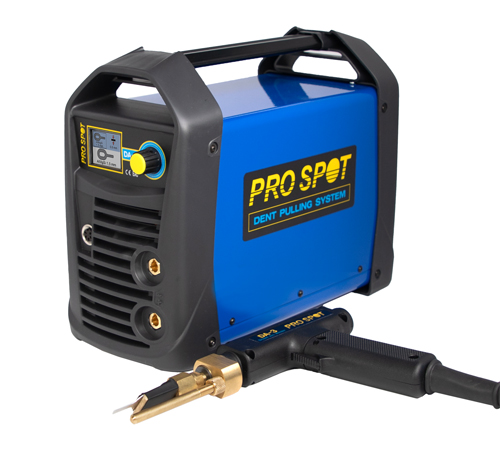 The Pro Spot DA-3 Synergic Drawn Arc welder easily applies pulling keys and threaded studs so that various tools can be used to pull dents from steel and aluminum panels. With specific programs for both steel and aluminum, the DA-3 features:
• Different functions for a variety of repair procedures
• Color graphics screen for easy and intuitive set up
• Customizable and storable weld programs
• SD card memory to update and add programs
• Extremely lightweight
The DA-3 has a wide range of configurations to best fit your shop's needs. It can be added to a weld cart or even a Mobile Weld or Dent Pulling station for additional functionality, mobility and storage.
LEARN MORE
|
DA-3 BROCHURE
|
DA-3 COMPONENT LIST
Aluminum Repair Using Drawn Arc Technology

MWS-AL-COMPLETE Equipment and Accessories
Mobile Work Station G2
110V Power Strip, 6-Outlet, 2-USB
DA-3 220V: Drawn Arc Dent Puller
85-0200: Heat Gun (110V)
85-3088: Air Grinder
85-0421: Infrared Laser Thermometer
SA-0032: AL Hammers, 3 Piece Set
PB-10: Pull Bar 4-footed
PRO-65: Pull Gun Assembly
Multiple mounting Accessories
SEE COMPLETE COMPONENT LIST
WORK STATION TECHNICAL SPECIFICATIONS
| | |
| --- | --- |
| Work Station Dimensions: | 32.8" W x 18.2" D x 39.8" H |
| Part Number: | MWS-AL-COMPLETE |
| Weight: (With all equipment) | |