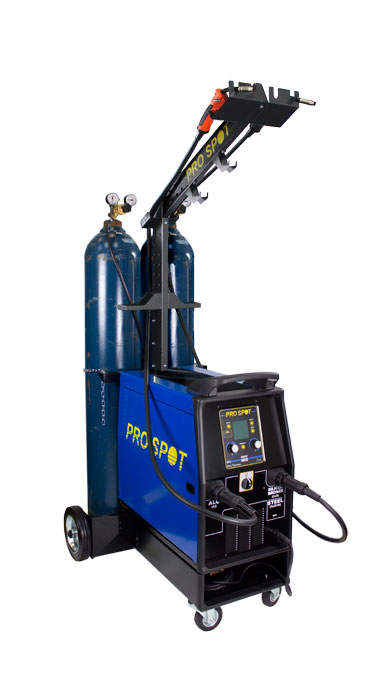 SP-2 | Smart MIG
The SP-2 Smart MIG has two MIG torches that can be setup for two different base metals: Aluminum and Silicon Bronze or Steel. The shielding gas and weld program with the appropriate synergic curve automatically switch when pulling the trigger. The SP-2 is ideal for body shops welding stainless steel and aluminum. In synergic mode, the microprocessor controls optimal arc stability and weld quality. Welding can be done in continuous or pulse mode. Maximum power output of 200 A.
Locate a Distributor ›
Simply pick up the appropriate torch for the base metal you want to weld and pull the trigger — the SP-2 will automatically switch the weld program and synergic curve — no need to change wire spools or shielding gas.
Preprogrammed synergic curves maintain optimal arc stability and weld quality.
SP-5 Smart MIG

Single phase 208-240V 50-60Hz
5 torches — 3 MIG, 1 TIG, 1 stick
3 wire spools
2 gas cylinders
Technical Specifications
Input Voltage:

Single Phase
208 - 240V 50-60Hz

Amps / Volts, Min - Max:
20A / 15V - 200A / 24V
Protection:
IP 22
Insulation:
H
System Weight:
154 lb. (70 kg)
Features
2 Torches
2 Wire Spools
Pulsed Welding
Continuous Mode
Inverter Technology
Preloaded Synergic Programs
Easy Feed Wire System
Auto Switching