IONSTAR® exclusively by Pro Spot

`
Introducing the NEW IONSTAR Anti-Static Gun, the most effective tool that helps painters get the cleanest paint job possible. It eliminates the static and dust in one quick and easy step. Static electricity and dust negatively affect the quality of any paint job. The IONSTAR anti-stat gun neutralizes static electricity from the surface and provides optimal painting conditions.
• Compact and ergonomic design
• Visible working area with laser working radius indicator
• 25% lighter than its predecessor
• Mobile and protective storage box
Locate a Distributor ›
What is the IONSTAR® Anti-Stat Gun?
The IONSTAR® is a tool designed for the painter who wants to eliminate static electricity from any material that is being prepped for painting.
The tool works on compressed air only, has no electrical input, no batteries, and no charging devices.
The IONSTAR® can be used on all surfaces where electrostatic discharge is a problem: plastic, aluminum, or steel!
The IONSTAR® will remove static electricity from the workpiece for up to 40 minutes, though ideally, painting should be done within 15 minutes of application. Removing the static electrical charge from the workpiece keeps dust and other particles from collecting on the 'to be painted' surface and provides a cleaner and smoother finished painted surface.
Benefits of the IONSTAR® Gun
- Nearly 100% less dust inclusions
- IONSTAR® ionization technology improves paint adhesion
- No cloud formation or dark edges
- Less color matching difficulties
- No static charge, less rework
- Saves time, material, and money
- Patented turbine generator technology
- Practical and ergonomic
- Even more robust due to compact design
- Meets the requirements of Industry 4.0
- Innovative fiber optic technology for best coating results
- Weighs only 0.5lb
- Laser working-area indicator
- Alternating LED status display
- Needs neither power cables nor batteries
- No charging needed, no hassle
- Maintenance-free ionization tips
- EX (ATEX), CE and UKCA certified

IONSTAR® Anti-Stat Gun Makes Painting Easier
IONSTAR® Gun eliminates static and dust in seconds while drastically reducing contamination. The IONSTAR® is a compressed air operated tool that requires no batteries or any type of external power unit. It reduces dry edges, improves paint adhesion and cuts down the prep time before paint. The IONSTAR® also helps aids in metallic control for better color blending. Using the IONSTAR® will also bring down costs on chemicals and cleaners, saving money and time.
How The IONSTAR® Anti-Stat Gun Works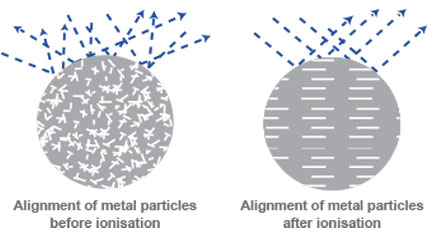 The IONSTAR® ionizing Anti-Stat Gun is safe to use, has the CE safety certifications, EX-ATEX, and is non-hazardous.
The positive and negative ions that the IONSTAR® produces have a half-life period of less than a second. The ions remain in the air and in the spray booth for just long enough to neutralize the static on the workpiece, after which they lose their energy, dissipate into the atmosphere and cease to exist.
There are several different types of ionization or methods on how ions are produced.
The Plasma Discharge Ionization used in the IONSTAR® must not be confused with other ionization methods such as: chemical ionization, electrochemical (corona discharge) ionization, thermal ionization or the various forms of radioactive ionization in which radioactive decay ionizes alpha, beta, gamma or X particles.
Note: The IONSTAR® works at range of 36-50 Psi. The unit will notify the user with a flashing red light if the pressure is too high, green flashing light will appear if the pressure is too low.
Technical Specifications
| | |
| --- | --- |
| Permissible operating pressure: | 2.5 - 3.5 bar / 0.25 - 0.35 MPa / 36 - 50 Psi |
| Temperature range: | -15° - 50 °C / 5° - 122 °F / 258° - 323 °K |
| Recommended air-flow rate: | |
| Rated voltage: | 12 V |
| High voltage: | 5,1 kV / ED 20% |
| Dimensions: | H 7.4'(190mm) / W 4.3" (110mm)/ D 1.3" (34mm) |
| Weight: | 0.5lb (240g) |
| Manufacturer: | Herrmann Innovations GmbH |