PR-2000 Troubleshooting Guide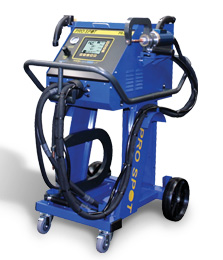 Request Technical Support
Note: It is strongly recommended that only qualified technicians use these repair guidelines, ignoring to do so could result in a void of your warranty. This information is to be used as a guideline only, and cannot be guaranteed to solve your specific repair issue.
The PR-2000 shows no display screen & the phase lamps DO NOT illuminate.
Check that the wall & cabinet breakers are on.
Check house power level (all phases) at panel, breaker and outlet.
Check wires in plug and supply cable.
Check breaker and cassette terminal strip.
Check harness to PCB and 18VDC.
Check ribbon cable.
The PR-2000 shows no display screen & the phase lamps DO illuminate.
Check that the display screen has power & the phase lamps are on.
Check accidental press of gun trigger.
Check software flash card insertion, version and integrity.
Check display brightness adjustment under the settings menu.
The PR-2000 makes a weak weld.
Check gun setup: squeeze pressure, shank & arm, tip condition & alignment.
Check metal prep & condition as well as thickness.
Check Weld settings and Power profile.
Check supply voltage level for voltage drop.
Soft-start delay relay not functioning and no weld from either gun.
Confirm click on PCB during 5 second soft-start delay period.
Confirm AC Input voltage and Display.
Check for IGBT buss voltage on PCB indicator and system wiring.
Inspect and check Soft Start Resistor Board.
Jumper the relay harness (temporary) to attempt System fix. (May require cassette swap.)
Double-sided gun does not weld, single sided does.
Check gun cable connections and trigger (input) loop continuity (24vdc).
Check pressure & air flow to / through air lines. Disconnect lines at Cabinet & press triggers.
Check solenoid output integrity (24vdc).
Check two-way Gun Solenoid.
Weld error message issued & no weld from either gun.
Confirm supply voltage to welder. Bridge in high current section generates 300VDC for IGBTs.
Confirm IGBT buss voltage indicators. Soft Start is normally ok.
Confirm PCB 15VDC and IGBT driver integrity (inspect bottom).
Check stud diode array on weld transformer. This is a simple at-gun measurement.
Check IGBTs.
Pop sound reported in cabinet, no weld either gun & soft start relay ok.
Inspect systems to locate pop source following input voltage check.
Check for loose wiring connections, especially high current paths.
Check for problem with Softstart or IGBT systems.
Temperature error message issued or no air cooling.
Check sensor Display readout (100 C =failure / 30+/-ok) Also see ambient / outdoor temperature.
Check sensor input (25000 +/- ohms). (Sensor failure or temporary overheat will disable welder.)
Check 15VDC and PCB.
Check solenoid output and wiring.
Check 24VDC and PCB.
Cabinet circuit breaker trips.
Check breaker and high current wiring.
Check for loose or broken connection.
Check Softstart, bridge, IGBT and diode circuits.
Facility (wall) breaker trips.
Check outlet & plug.
Check cabinet breaker and high current wiring.