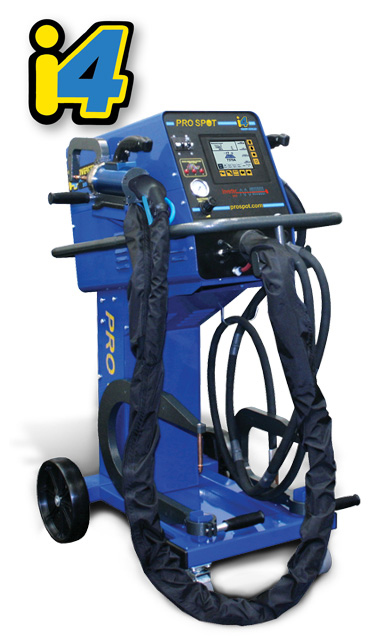 i4

| Inverter Resistance Spot Welder

The i4 Inverter Resistance Spot Welder is designed to handle the difficult to weld materials such as boron steels and Advanced High Strength Steels (AHSS). These new metals are rapidly becoming the material of choice among car manufacturers. The i4 includes an OEM programmable feature with detailed repair illustrations and customized weld programs.

Locate a Distributor ›
PS-500 Double-Acting Spot Gun Back to top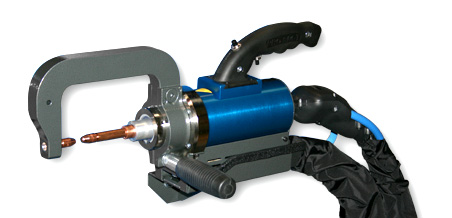 Push one button to open electrodes wide, then push the other button to close electrodes and weld. Pro Spot's PS-500 Spot Gun System features electrode pressure over 600 Lb. with all extension arm sizes.
Changing the arms on our weld guns is quick and easy.

| | | | | | |
| --- | --- | --- | --- | --- | --- |
| PS-503 (optional) | PS-305 | PS-306 (optional) | PS-403 (optional) | PS-302 | PS-52-5/8 |
| 600mm U-Arm | 508mm U-Arm | C-Arm Deep (280mm) | X-Adapter | C-Arm | Wheelhouse Arm |

The i4 comes standard with several different types of weld arm extensions (508mm U-Arm, C-Arm, Wheelhouse Arm) and others are available upon request, so that you can tackle any welding problem with as much ease and accuracy as possible.
Learn more ›
The i4 is capable of handling a variety of single-sided welding needs, including:
washer, nut & bolt, nail, rivet and stitch.
Learn more ›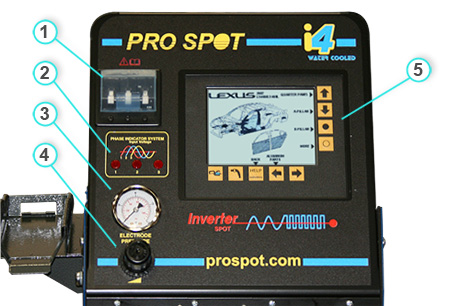 The i4 features a clean, ergonomic interface layout with the power switch and electrode pressure knobs all set in a convenient and straight forward manner. It also has a large 4x6" monitor capable of displaying images and OEM repair procedures.
Power Switch
3 Phase Power Indication Lights
Electrode Pressure Gauge
Electrode Pressure Control Knob
Display Screen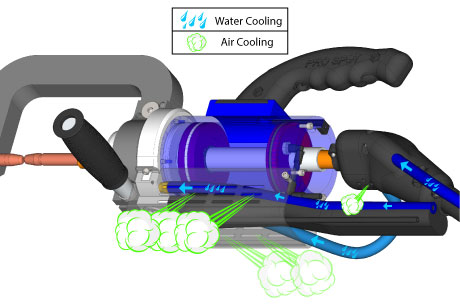 Cooling system for i4:
The i4 is both water cooled and air cooled. The air cooling starts when the temp reach 42c and shuts off automatically at 37c. Welding can remain while air cooling is on.
The water cooling is loop based system that cools the transformer weld cables and spot gun. While the water cooling is running the welder can operate as normal.
The reason for the two cooling system is that Pro Spot found it being most efficient and will extend the duty cycle of the welder.
The i4's software is easily upgraded with a removable Flash Card as new data and information become available. The latest i4 software features over 3,000 GM OEM repair screens including Dodge, Toyota, Lexus, Volvo, and more.

The i4 data log feature is an easy way to manage weld history, quality of welds and power applied to each weld. Detailed information is stored in an excel file stored on a removable USB flash drive.

Weld-Bonding program for your advanced steel applications. Current is controlled via stored parameters. Amperage Feedback Display: Shows the exact amount of current being used by the welder for each weld.

Access over 3,000 OEM Repair Screens (including: GM, Toyota, Lexus, Volvo, Dodge and More!) as well as general welder help and maintenance on-board.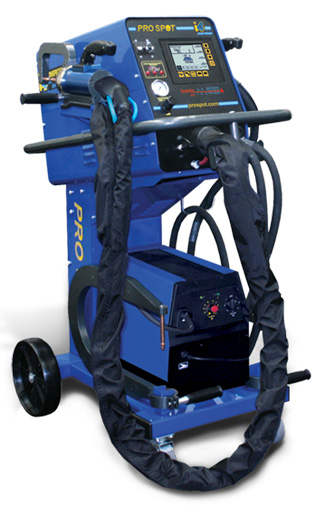 The i4 package can include a MIG welder as an option. It can also be installed later as an upgrade. This feature allows the convenience of STRSW and MIG welding in one unit.
MIG Features
220V 1-phase ready to use
Binzel connector: quick-connect all-in-one adapter
Ideal for collision repair welding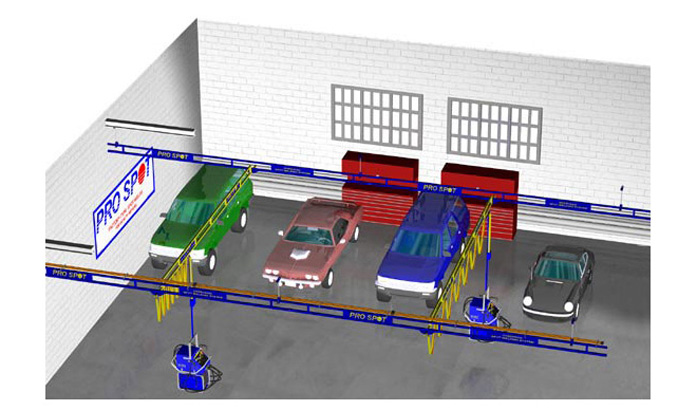 The i4 has an overhead installation option. With the overhead option, the welder hangs from a track system that can cover up to 14 bays.
Overhead Features
All the features of a portable i4 welder. ( Optional MIG welder included. )
Convenient overhead mounting system.
No cables, air hoses or equipment on the floor.
Always connected, ready to weld.
Stores out of the way when not in use.
Moves easily around the shop.
Saves valuable shop floor space.
Technical Specifications
Input Voltage:

3 phase
208 - 240v 50/60Hz
400 - 420v 50/60Hz
460 - 480v 50/60Hz

Welding Amperage:
12500A max (3-phase)
Cable Length:
Electrode Pressure:
7 bars (90 PSI)-280 DaN (616 Lb)
Cooling System:

Air (2 fans), Compressed air
(weld gun and weld cables)
Water cooling
(inverter, transformer, welding gun)

Microprocessor:
i4 Upgradable Software Platform
Protection:
IP 21
Patents (3):

no. 5,239,155
no. 6,706,990
no. 6,539,770

Shipping Weight:
373lb (169kg)
Features
Inverter Technology, 2000Hz.
Liquid Cooled
Fully Upgradeable Software Stored On Removable Flash Card
Designed For New Advanced Steels: AHSS, HSS, T.R.I.P, BORON
Current Sensing Technology
OEM Repair Procedures On-Board
Multiple languages, Change On-The-Fly
4 Cable System
3-Phase Input
Double-Acting Spot Gun
Two Sided Spot Welding
Single-Sided Welding
X-Gun Adaptive (optional)
Upgradable To Overhead Installation (optional)
Built-In MIG Welder Available (optional)