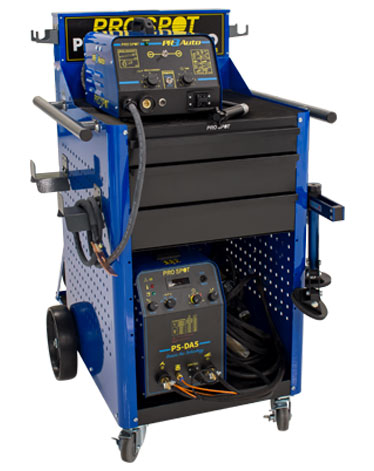 Pro Pull Combo
Get the best of both worlds with the Pro Pull Combo, the professional solution for your dent repair needs. With the PR-3 Auto, the PS-DA5 and a variety of pulling tools on one mobile station, you can now repair any dent anywhere in the shop. Using the PR-3 Auto for fast, efficient steel dent repair and the PS-DA5's drawn arc technology for precise aluminum dent repair – you have a one-stop dent repair solution for your shop.
Locate a Distributor ›
Repair Aluminum & Steel DentsBack to top
Save time with quick application of pull keys.

Tightly arrange keys for a more consistent pull.

Apply keys and studs with Drawn Arc Welding.

The PRO-65 provides targeted dent pulling.
PR-3 Auto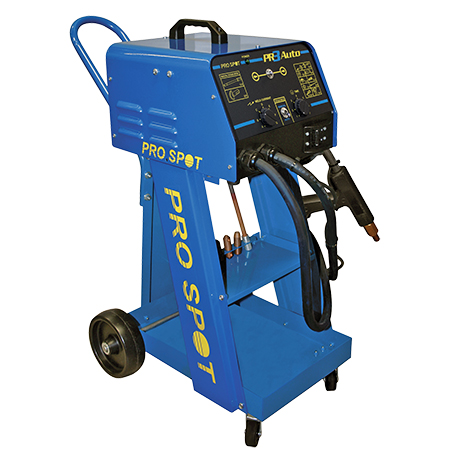 The PR-3 Auto senses when a weld tip or pull key has made contact and welds automatically after a short delay.
Technical Specifications:
Input Power: 1 Phase 208-230V or 400V
Input Amperage: 24A
Input Cable: 30' (9m)
Output Amperage: 2,000A Max (at tips)
Welding Cable: 8' (2.5m)
Welding Cable/T-Dent: 8' (2.5m)
Dimensions: 18x14x12in.
Auto Weld Feature
The Auto feature is very quick and user friendly due to the fact that it does not weld instantly like other higher priced systems on the market. Electrodes that can be used with the Auto-Mode include:
Pull Key Electrode (PS-880)

4mm Stud Holder Electrode (PS-820)

6mm Stud Holder Electrode (PS-839)

Washer Adapter (PS-840)

Rivet Holder (PS-870)

Spot Hammer Assembly (CLP-70)

Weld-on Shaft Dent Pulling Kit (CLP-110)

Weld-on Shafts (SA-0153, SA-0152, SA-0151)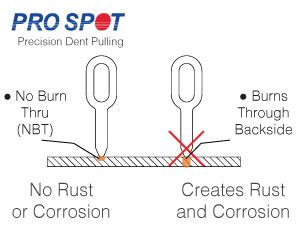 Auto Welding

Pull Bar Dent Pulling
By using weld keys, the user is able to pull a larger area all at once. They are also usefull for pulling out creases. When the keys are welded in a crease and the metal rod is inserted through the group of keys, the low portion of the crease will be pulled first and the entire crease pulled evenly flat. Used with the Pro Pull Single Pull or Pull Bar.
PS-DA5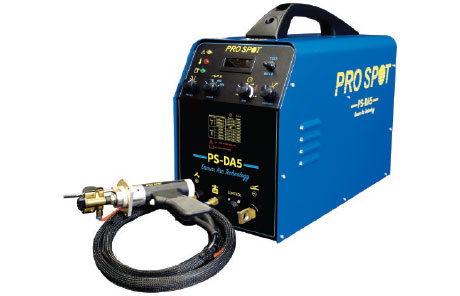 The Pro Spot PS-DA5 Drawn Arc Welder is the latest technology in precise dent pulling for aluminum repair. Using drawn arc technology, the PS-DA5 easily applies pulling keys and thread- ed studs so that various tools can be used to pull dents from aluminum panels that would otherwise need replacing.
Technical Specifications:
Input Power: 3 Phase 208-240V 50/60Hz
Input Amperage: 40A
Input Cable: 30' (9m)
Welding Cable: 8' (2.5m)
Welding Cable/T-Dent: 8' (2.5m)
Dimensions: 28x18x18in.
Aluminum Repair Using Drawn Arc TechnologyBack to top
Learn how to repair aluminum using Drawn Arc Technology with the PS-DA5