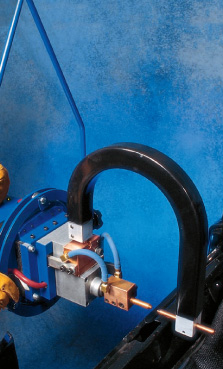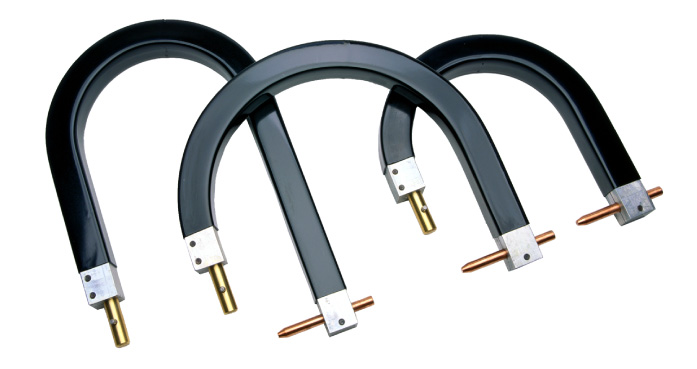 Pro Spot's patented extension arms are a step ahead of everyone else.
Available in three different sizes, they make it possible to reach difficult areas such as back panels and core supports. Just attach the arm length and tip required for the job, rotate the arm to reach the weld area, simply twist the arm into its "memory lock" position and begin welding.
X-Adapter Extension Arm Back to top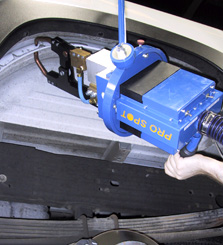 No assembly needed. No cables needed.
The current is transferred via a pivoting copper conductor which also allows for the build up of squeeze pressure. Welding with the C-X Adapter is easy, simply push one button to open electrodes wide & push the other button to close electrodes and weld.

The Pro Spot PR-10 comes with a variety of welding electrodes to accomodate any welding job.
All Pro Spot electrodes are made of class II copper/chromium alloy for longer life and better spot welding capability. PLT-100: Truck Bed Electrode Kit | PLT-11: Wheel house electrode, bent | PLT-11ST: Wheel house electrode - Straight | PLT-12: Wheel house electrode, bent | PLT-14: 3" Electrode, straight | PLT-18: 90 degree Electrode | PLT-24: Door skin tip (swivel) | PLT-25: S-bend electrode | PLT-25L: S-bend electrode, long
The package can include a MIG welder as an option. It can also be installed later as an upgrade. This feature allows the convenience of STRSW and MIG welding in one unit.
MIG Features
220V 1-phase ready to use
Binzel connector: quick-connect all-in-one adapter
Ideal for collision repair welding
The has an overhead installation option. With the overhead option, the welder hangs from a track system that can cover up to 14 bays.
Overhead Features
All the features of a portable welder. ( Optional MIG welder included. )
Convenient overhead mounting system.
No cables, air hoses or equipment on the floor.
Always connected, ready to weld.
Stores out of the way when not in use.
Moves easily around the shop.
Saves valuable shop floor space.
Technical Specifications
Input Voltage:
208V, 230V, 380V, 415V 50/60 Hz
Open Circuit Voltage:
4.5V
Output Capacity:
45KvA
Welding amperage:
10,000A
Electrode pressure:
220 daN
Cooling System:

Water Cooled
(weld gun and weld cables)
(inverter, transformer, welding gun)

Duty Cycle:
Continuous (50%)
Fuse Protection:
220V-50A, 400V-32A
Features
Liquid cooled
Two sided spot welding
Weight balanced head
10,000A at the electrodes
Automatic weld control
Adjustable weld height
6mm weld nugget
Wide array of accessories and electrodes
Interchangeable arms
X-Gun adaptive
OEM approved