Features
Lightweight

The Dust-Free Sanding System is extremely lightweight and portable weighing in at 14 lbs.

Orbital Vacuum Air Sander

The patented, Orbital Vacuum Air Sander uses exhaust air for dust extraction at no additional energy cost. Provide maximum effective dust extraction with very low air pressure and convenient exhaust hose length.

Sanding Block

The Sanding Block makes hand sanding easier and more efficient. It gives the operator total control of the situation by giving the best results while eliminating dust as soon as it's created.

Easy Clean Up

The back of the unit opens up making access to the bag easy and clean up even easier.
Dust-Free Sanding System Mobile CartBack to top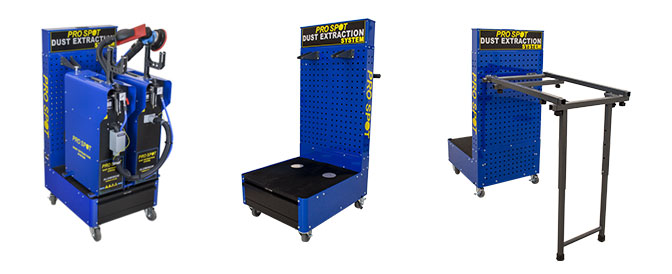 The Dust-Free Sanding System is a portable system that becomes even more portable with the mobile cart. Add on the optional Folding Work Table to create your own convenient sanding station anywhere you'd like.
Technical Specifications
Unit Dimensions

Unit Weight:
Aluminum Orbital Sander
Aluminum Sanding Block
Steel Orbital Sander
Steel Sanding Block



15 lbs.
14 lbs.
33 lbs.
31 lbs.

Cart Dimensions
34L x 22W x 50H
Cart Weight
93 lbs

System Weight:
Alumnium
Steel

Max Pneumatic Air Input
125 PSI
Operating Pressure
15-75 PSI
Noise Level
74.9 dBA
Features
Extremely Lightweight 14 lbs.
High Portability
Low Air Consumption 5-7 CFM
No Electric Motor - Air Operated